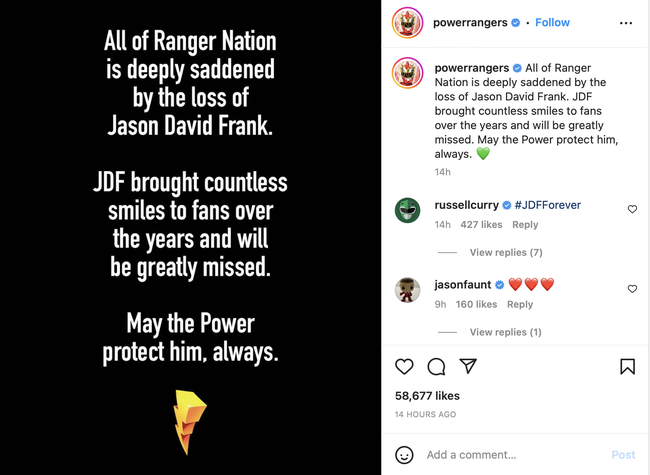 Jason David Frank, best known for his role as the Green Power Ranger in the hit 90s superhero television series Mighty Morphin Power Rangers, has died after committing suicide. He was 49.
Frank, a mixed martial artist, died in Texas after committing suicide, according to his representative Justine Hunt.
"Please respect the privacy of his family and friends during this horrible time as we come to terms with the loss of such a wonderful human being," Hunt said in a statement, according to Digital Spy.
"All of Ranger Nation is deeply saddened by the loss of Jason David Frank. JDF brought countless smiles to fans over the years and will be greatly missed," the official Power Rangers account posted on Instagram.
"May the Power protect him, always."
Frank's co-stars also paid tribute to him on social media.
"Jase, you were beautiful and truly unique. My life just won't be the same without your frenetic, hilarious, caring, driven and creative ball of energy. I will always love you, dear friend. Please Rest now In Peace …" Amy Jo Johnson, the original Pink Ranger, wrote.
"Can't believe it. … RIP Jason David Frank," Walter Jones, the first Black Ranger, said. "My heart is sad to have lost another member of our special family."
Frank was first cast as Tommy Oliver, the original Green Power Ranger, in season 1 of the Mighty Morphin Power Rangers in 1993. He later became a Red and a Black Ranger. He also led the superhero group as the White Power Ranger.
In addition to his acting career, Frank trained professionally as an MMA brawler who was well-versed in multiple fighting styles, including Taekwondo, Muay Thai, Judo, Brazilian Jiu-Jitsu and more.
Frank was also a Christian and founded the first Christian-based MMA apparel company, Jesus Didn't Tap.
During a 2014 interview with CBN News, Frank shared that his wife invited him to church after his brother passed away.
"I didn't really understand what the whole church thing was about, and then, when I lost my brother, it was like people were telling me I need God and all that stuff, and I was like, 'If one more person tells me that, then that is what it is,'" Frank said at the time.
As Christian Headlines previously reported, Frank also reprised his role in the 2017 remake of the original Power Rangers film, which at the time drew controversy for starring a lesbian character as the Yellow ranger.
Frank is survived by his four children.
Photo courtesy: ©Getty Images/Daniel Zuchnik/Stringer
---
Milton Quintanilla is a freelance writer. He is also the co-hosts of the For Your Soul podcast, which seeks to equip the church with biblical truth and sound doctrine. Visit his blog Blessed Are The Forgiven.